Having visited Ranthambore Tiger Reserve first in 2006, the dry deciduous forest with its steady Tiger population has grown on me following each revisit. Spread over 392 square kilometers the reserve is home to various species of Indian wildlife besides the Tiger. In the wild spotting a Tiger is always the cherry on the cake but none the less its best not to get ones hopes up high, the other habitants are almost equally as important.
I've generally had some great luck with sightings of Tigers at Ranthambore, but the most recent visit earlier this month was a little different. Having wished for some similar sightings as from the past, two Tigers; Machli (the grandmother of Ranthambore) & T24 (a dominant male) were spotted, both gave me immense joy just seeing they were well. The distance between us over 2 different safaris was significant this kept me from making images, rather smiled and watched them be.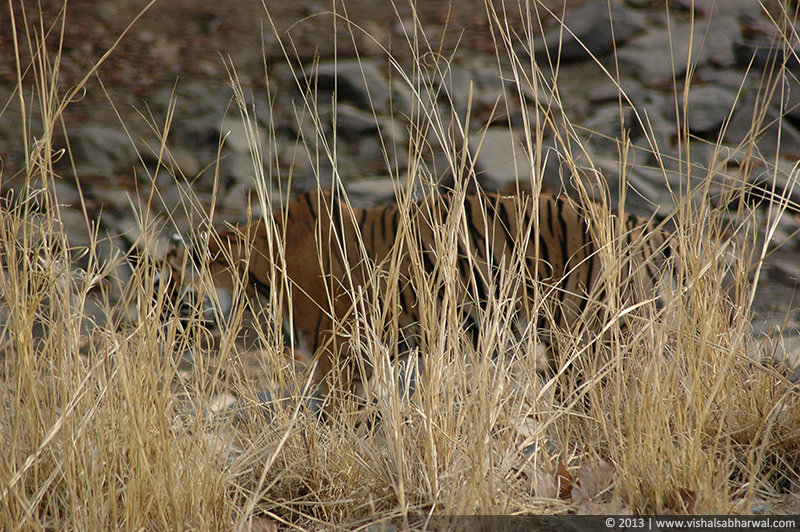 The day always starts fairly early in the jungles, regardless of time to bed one should be up & about by 0500 hrs. The summer entry into Ranthambore Tiger Reserve is at 0600 hrs and being first into the jungle has its perks.
We had heard Spotted Deer (Cheetal) & Langur calls the previous evening at a particular spot & decided to head on up there. As we waited silently & very patiently keeping our ears out for the faintest calls of the wild, we heard a Cheetal call in the distance. Awaiting some more assurity we continued to wait & hold our spot. A few moments had passed by before we heard the call again, this time closer to our ears.
And we continued to wait patiently, 60 minutes & hundreds of thoughts through my mind had passed till a shriek that my ears heard was confirmed. Without any delay we headed straight to the spot we thought the sound to have originated from. A rustle in the undergrowth, a pause & another rustle stirred excitement, at this point I was as alert as I can ever be. With all senses directed in one direction we spotted a Leopard in broad day light; a very rare sighting as most professionals & naturalists would point out. The allusive predator had very silently claimed her prize; a hearty breakfast, lunch & dinner for herself or perhaps for her young as well.
This Leopard had stalked & killed an adult female Spotted Deer right under our noses without us even knowing, awe struck we could only imagine the skill this magnificent creature possessed.
At half 8 in the morning the Sun was strong, it was getting very hot as we watched the Leopard struggle to drag her prey up a hill. She would pause and catch a breath after a few paces, she was in a hurry; a faceoff with a Tiger would have forced this Leopard to abandon her meal.
6 minutes is all we had before the Leopard slowly disappeared from sight. With excitement I decided to review the images that were made. 18 images & I sighed with content. I consider myself very lucky as this was my first Leopard sighting with a Kill in Ranthambore.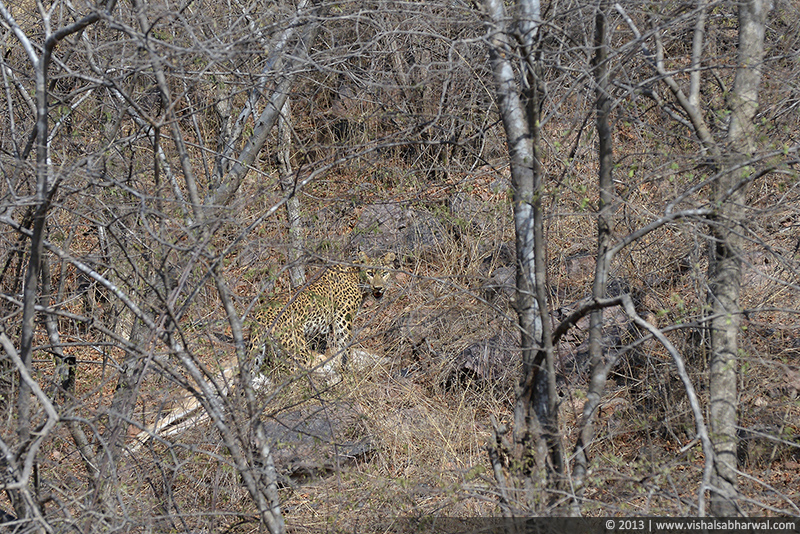 After the morning safari its breakfast at the resort and following hours till lunch the occasional exchange of experiences, reviewing of images, transferring images, charging batteries, napping, etc., etc.
Evening of the day that I arrived from Jaipur at Sawai Madhopur / Ranthambore on my motorbike I landed straight at Ranthambhore Bagh. Ahead of time I had communicated with Aditya 'Dicky' Singh, owner of the resort; Ranthambhore Bagh. With several mutual friends, Aditya & I had another strong connection; the passion for wildlife & photography. We had been online friends over few years but had never met and as our conversations grew late into the evening I decided to check in at his resort, lucky for me there was just one vacant room available. Aditya before attending to his other guests gave me the pleasure of being introduced to Oliver Goetzl and Ivo Nörenberg, two wildlife film makers from Germany.
A brief discussion with Oliver and Ivo over fresh lime soda gave me a glimpse into the passion & dedication they bring to their work, next few days confirmed it. Post one morning safari, Oliver shared with me their documentary on Sloth Bears, I was awe struck. The duos skill & brilliance flowed seamlessly for the entire duration of the film. Sir David Attenborough's narration towards 'Jungle Book Bear', Oliver & Ivo's documentary is nothing short of a masterpiece! Jungle Book Bear is being broadcasted by BBC on their series Natural World, not too sure if the DVD is out in stores although Oliver & Ivo decided to gift me a director's copy.
Oliver & Ivo's work: www.gulofilm.com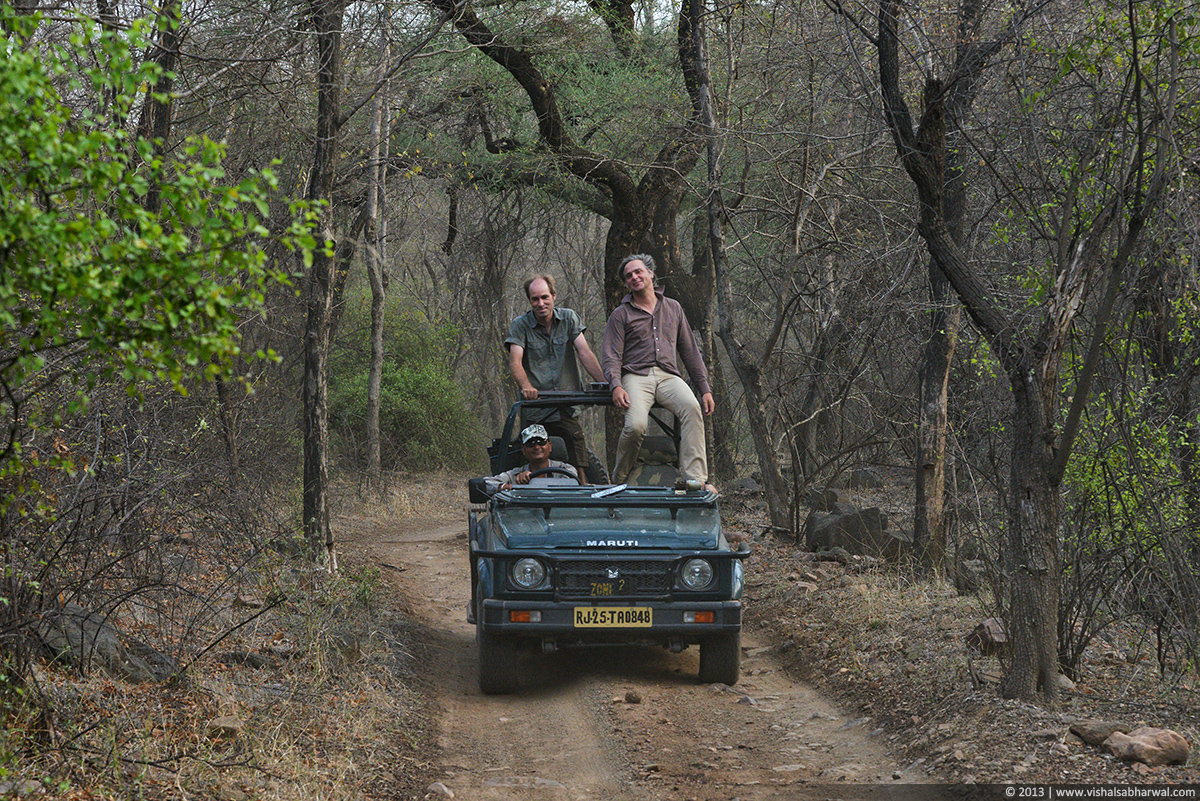 With the evening coming to an end we had our dinner & called it a day. The morning safari was planned by Aditya who had extended an invitation to join him. At 0530 hrs after a quick morning cuppa both of us along with a guide, driver & our camera gear headed straight to the reserve's check post to validate our entry permits.
As we briefly waited for entry the excitement was already stirring. This was the morning of the wonderful Leopard sighting. I possibly couldn't be happier with such luck on my first safari at Ranthambore after almost 2 years.
There was another safari planned after lunch and I keenly looked forward to it. During the afternoon/evening safari Aditya observed fresh Tiger pug marks near a water hole, we decided to park nearby and play the waiting game yet again. The deer initially followed by langur calls confirmed the presence of a predator. As we continued to wait the calls seemed to fade out, the Tiger had vanished without revealing himself to us. The temperature was soaring well over 42°C and we made a decision to continue waiting under shade of a massive canopy of trees. The water hole we waited near was the biggest for quite a distance. 3 gypsies; 4×4 jeeps/safari vehicles were parked next to each other and we got discussing the jungle with each other. Oliver & Ivo in one jeep behind us, Roy & Michael (both wildlife photographers from the UK) adjoining us. All of them regular visitors to the reserve knew Aditya fairly well. With few short conversations in-between photographs I decided to continue making images of some birds around. As I paused to sit back, Roy made a photograph of me in the moment.
Roy's work: www.shootingscenes.co.uk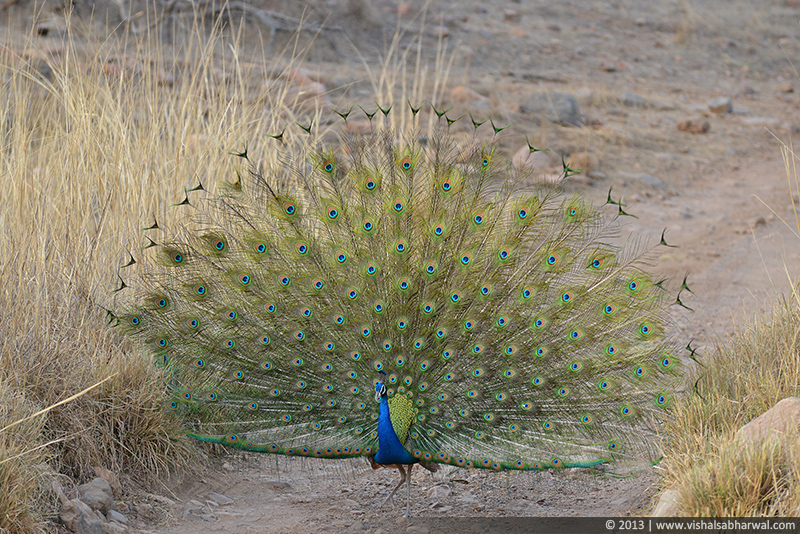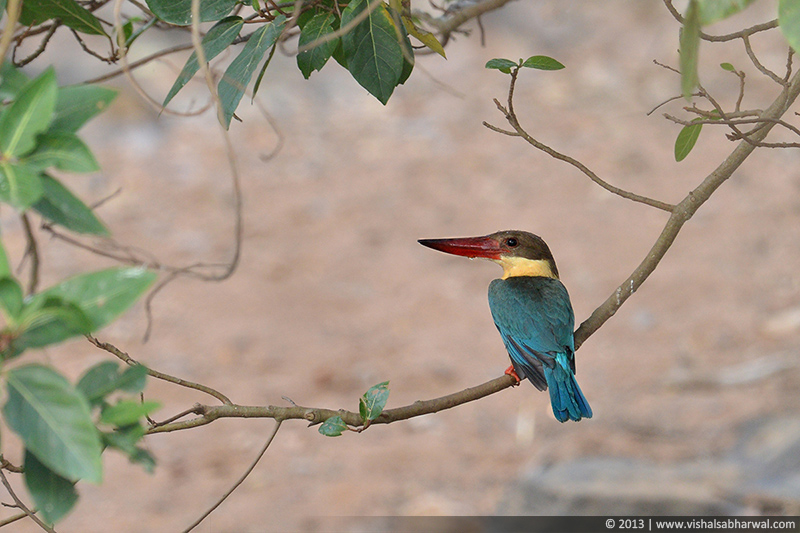 Before the safari came to an end we decided to venture to another route and get some images. We approached a tree where langurs were spotted and made a few images. Along the drive I also decided to capture a few landscape shots.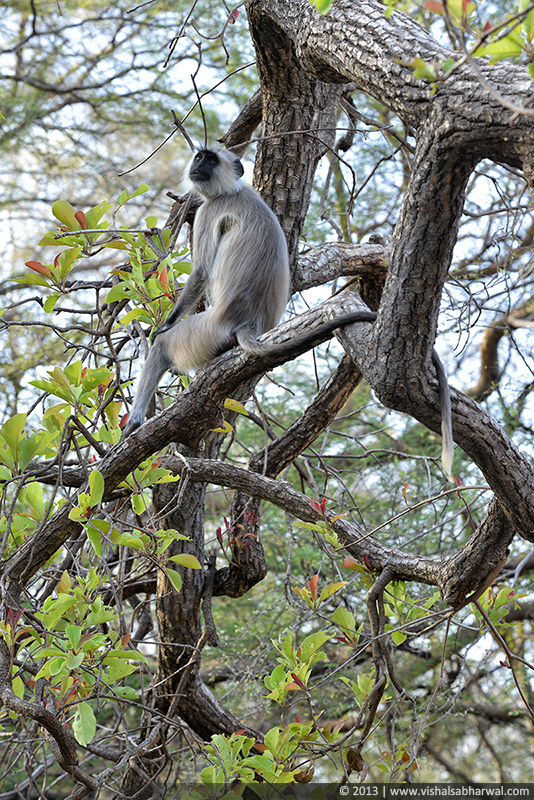 One should have an open mind without expectations when visiting the jungles, you can never be sure of what all you'll see and keeping the mind focused on something specific we tend to miss out on a lot.
I am very thankful to Aditya for being such a terrific host, no wonder with his immense knowledge of Ranthambore reserve & the skill of being a wonderful wildlife photographer himself, all the professionals prefer to stay with him at his resort.
Aditya 'Dicky' Singh: www.ranthambhore.com
I was still very keen to make some photographs of the Tigers & the next morning took my chances with the 3rd and final safari into the reserve. I returned satisfied with the jungle & its habitants but no Tiger. Perhaps I owe another visit hopefully for a longer duration next time. After breakfast I saddled up, checked out, bid farewell to all & continued onto New Delhi.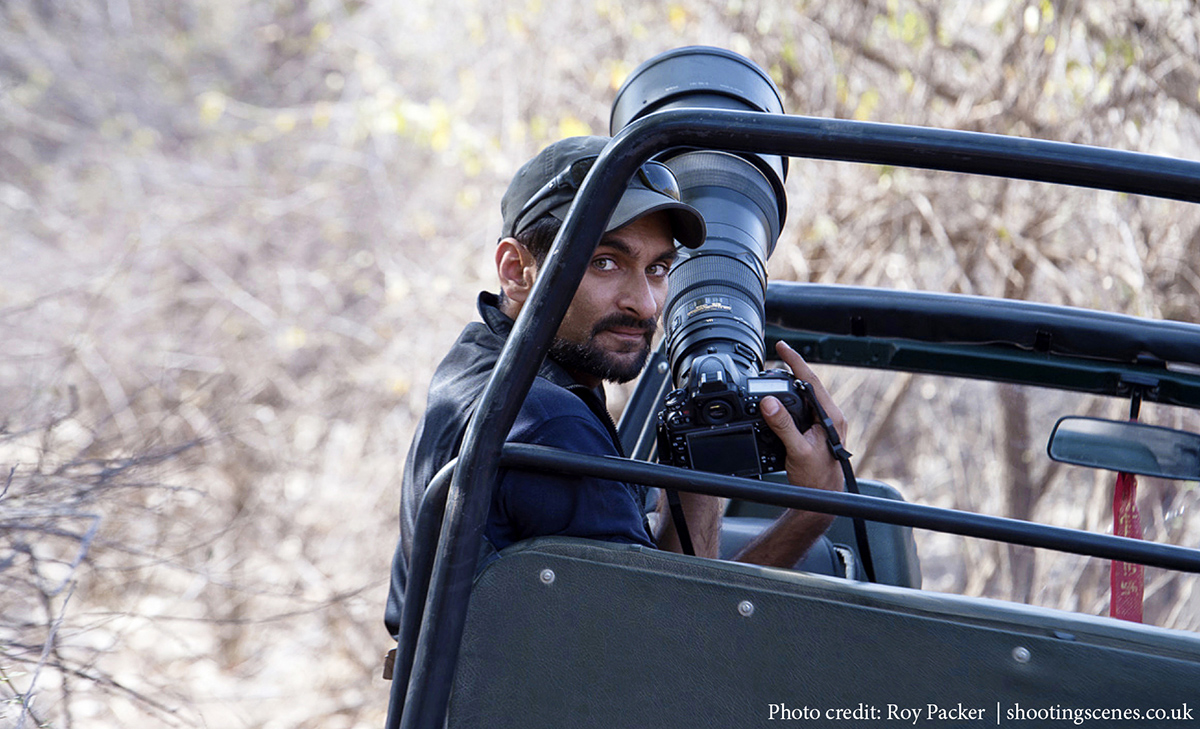 Cheers,
Vishal Sabharwal
Click to view a larger version of the images: