September of 2011 saw the announcement of Nikon's first mirrorless interchangeable lens compacts (MILC). As for me I had long awaited an announcement of this series by Nikon and was among the first to receive one from Nikon India.
Please note: all the images in this article have been made by me using the J1, I have shared the EXIF data for each image individually. All the images in JPEG format are photographed with the default setting in camera, no retouching has been applied. If you wish to share this article please feel most welcome to do so.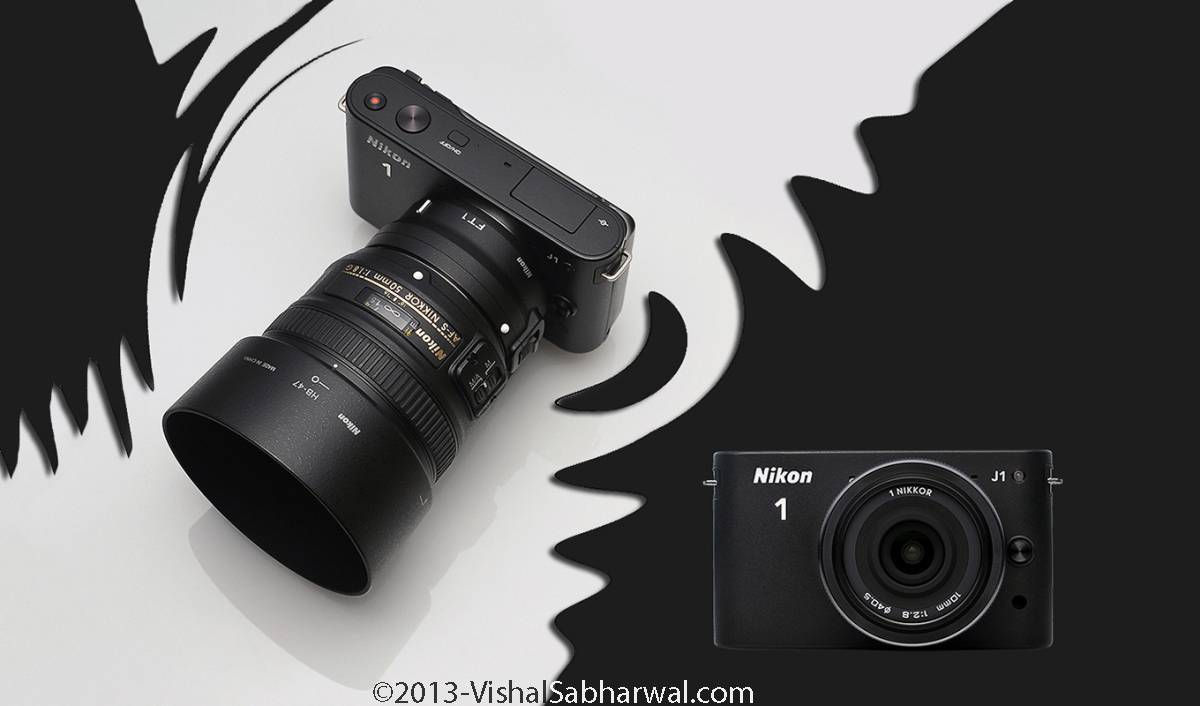 What the Nikon J1 is to me?
To correctly answer this I would like to share my history with Nikon cameras. The Nikon FM2 was the successor to my 1942 Zeiss Contax III which was handed down to me from my maternal grandfather's collection.
The reason I made the switch was the most convenient decision for me at the time, the mechanical shutter on the Zeiss had failed, the repair costs and shipping it to Germany nearly equaled a used Nikon FM2. For those of you wondering, I still have the Zeiss which was finally repaired around 2003.
During the years 1998-2002 the Nikon FM2 was the only camera with the Nikkor 50 f/1.4 Ai-S lens that accompanied me on all my trips. The FM2 was succeeded by the Nikon FM3A in 2002 continued to use the same 50mm lens. With the onset of the digital revolution the D70s was added to my kit in 2005 and I realized I was making many more images as compared to film. Over the years leading up till now lots of Nikon gear was added and removed from my photography kit. Most of the professional lenses were retained and the old DSLR's sold. In 2011 when Nikon introduced their 1 series I had a little over a dozen Nikkor lenses.
Along with the 1 series cameras Nikon was very thoughtful in also introducing the FT1; an adapter to mount all existing Nikon F mount lenses to the very new CX format mount of the 1 series, this by far is the most useful accessory for the 1 system. Coupled with the FT1 my J1 conveniently upgraded as a super performer with its 2.7x crop factor. The FT1 helped retain AF with all AF-S lenses, all other lenses i.e. AF-D & Ai-S have to be manually focused as the camera doesn't support an internal screw drive to focus the AF-D lenses.
With a few F mount AF-S lenses in my kit the 10-30mm VR kit lens that came along with the J1 hardly had any use. I didn't really miss the wide angle zoom as often the J1 would be used purely based on its 2.7x crop factor capability.
Preferring to photograph wildlife & portraits over my travels I often use the Nikkor 50 f/1.8 AF-S with the J1 that results in 135mm focal (50mm x 2.7 crop = 135mm) Why the 50 1.8 AF-S and not 1.4 AF-S? Simply because I noticed strong LoCA with the 50 1.4 shot wide open as compared to 50 1.8 on the J1.
For portraits I absolutely love the 135mm focal length and this combo provided me with just that, also being a tad faster than my Nikkor 135 f/2 DC lens on FX.
Moving to photographing wildlife, specifically birds the Nikkor 80-200 f/2.8 AF-S converts to 216-540mm @ f/2.8! A point to note here; the crop factor does nothing to the aperture rating of the lens being used.
The most interesting bit that I choose to celebrate even till today is comparing Nikon's existing line of professional telephoto lenses to my combination. No brand has a 500mm @ f/2.8 lens except perhaps Sigma with their 200-500 f/2.8 lens that weighs 15.7kg at a whooping price point of $32,000.00! That being said I'm still at 540mm @ f2.8 here. The prices can easily be compared on the manufacturer's websites; they may differ in different countries. One thing is for sure, you have a significantly lesser budget going with the 1 series.
With a Nikon 300mm f/2.8 AF-S lens this setup is fairly usable providing a focal length of 810mm @ f/2.8. With any professional Nikon glass one can be sure of stunning photo quality. Beyond 300mm with a 2.7x crop it is highly unlikely one will be able to make any shots as the angle of view is way too narrow even to find a moving subject on the camera's screen. To give you the numbers here:
400mm x 2.7x = 1080mm
500mm x 2.7x = 1350mm
600mm x 2.7x = 1620mm
800mm x 2.7x = 2160mm
So unless you have a Gimbal/Wimberley head and a static subject that gives you enough time to locate it on the screen, you will not make any photographs.
How does the 1 system rank up to DSLRs and Point & shoot?
A smaller sensor (13.2 x 8.8mm) as compared to those found in full frame DLSRs (36 x 24mm), the smaller sensor packs higher density of pixels as compared to the density of pixels on a bigger surface area of a larger sensor.
For example: Let's take 10 Mega Pixels on 2 cameras; a full frame & Nikon 1 CX sensor.
Calculation of Pixel Density in Square mm:
Sensor length (mm) x width (mm) = square mm (sensor area)
Total pixels (1 mega pixel = 1,000,000 pixels) ÷ sensor area (sq mm) = pixels per square mm
Full Frame Sensor: 36mm x 24mm = 864 square mm
10,000,000 (10 MP) ÷ 864 (sensor area) = 11,574 pixels per square mm (rounded)
CX Sensor: 13.2mm x 8.8mm = 116 square mm (rounded)
10,000,000 (10 MP) ÷ 116.16 (sensor area) = 86,207 pixels per square mm (rounded)
The Nikon 1 sensor AKA Nikon CX sensor has a size of 1 inch which is smaller than that of a full frame sensor yet fairly bigger than sensors found on most point & shoot cameras i.e. 1/2.3" and 1/1.7", hence smaller sensors pack an even greater density of pixels at the same resolution.
This difference in PPM/PPI (pixels per sq mm/pixels per sq inch) depending on the size of the sensor makes a different in the capability of the camera to produce images that are intended for print. The more spread out the pixels the bigger the print one can make without losing quality. When higher density of pixels is stretched for a large print the image tends to reduce quality. Do not confuse DPI (dots per inch) with PPI, because PPM/PPI always refers to input resolution.
Low light performance & ISO
Having discussed pixel density, in a similar way smaller sensors aren't as good as bigger sensors in handling noise, hence are fairly restricted in their ISO range. For example a full frame sensor will yield better images at ISO 1600 than the CX sensor at the same ISO. A smaller sensor will show a lot more noise and aren't great for low light photography.
With the J1 I'm happy shooting up till ISO 400 preferring a lower ISO any day, I hardly ever get the camera to shoot images at ISO 800 or above even though the J1 gives me an ISO range of 100-3200 (6400 with the Hi1/boost mode).
Image & Video Quality
Both the image & video quality is definitely better than what I expected especially with F mount lenses coupled with the J1. I have not tested the prime lenses that are in line with the 1 series besides the 10mm f/2.8 which is a stunning performer in itself and makes for a great walk around 27mm.
Images out of this camera are best for electronic use for the web and print if the images aren't cropped too much for a big print. For everything else let the images below do all the talking.
The images below carry the EXIF in their captions, don't forget to multiply the focal length stated with 2.7x taking the crop factor into consideration and understanding the actual focal length.
Sample Video:
Sample Time Lapse Video:
Conclusion
What I like:
Adapting of F mount lenses with use of the FT1 which also maintains AF with all AF-S lenses
The J1 is soo compact that most times people looking at me think I forgot to mount a camera on the lens (with the F mount tele-lenses).
12 bit RAW support
Full HD Video; 1080/60i, 1080/30p, 720/60p
Time Lapse mode for stills
Quick AF
Built in Flash
Individual dials for Aperture & Shutter Speed
Inbuilt IR receiver for wireless IR triggering (ML-L3 IR remote sold separately)
The price point
What could be improved:
A dedicated button to shuffle P, A, S, M camera modes
Better external speedlight sync speed, as of now the Nikon 1 J series limit the user to 1/60s. I remember the D70s for its electronic shutter, similar to that of the 1 series electronic shutter the D70s could sync at 1/500s.
Better ISO range perhaps up to 12,800
Rather than a proprietary 1 series hot-shoe in future models they should consider introducing a hot-shoe for Nikon SB speedlights as seen on other smaller cameras like the most recent Nikon A & Nikon P7800. Yes even on the J series.
Time Lapse mode for video
Battery Life
Addition of Nikon CLS (Creative Lighting System) with a Commander mode built-in to the camera itself (if it's not too much to ask)
The Nikon J1 in no way is a backup body for my Nikon D800 or D3s in the field, I love the J1 simply because I always have it on me and at most times feel it's not even there. To test out prints from this camera I've enjoyed un-cropped images printed on A3. This is the only compact camera that has been with me for 2 years and I don't intend upgrading unless in future Nikon does wonders introducing some of the improvements listed above.
Thank you for stopping by & hope you've enjoyed reading this. If you have anything to add or clarify please leave a comment below.
Cheers,
Vishal Sabharwal